By Kathleen Elkins | CNBC Make It
New York City's pricey real estate has become a "buyers market," new data suggests, characterized by lowball offers and a rise in the number of properties staying on the market for longer.
The latest figures from Warburg Realty show that among higher-priced homes, New York City is in the throes of a "major shift" that reflects a cooling market, the likes of which hasn't been seen in almost a decade.
"Offers 20 percent and 25 percent below asking prices began to flow in, a phenomenon last seen in 2009," wrote Warburg Realty founder and CEO Frederick W. Peters in the report, which surveys real estate conditions around the city.
Warburg's report dovetails with separate data showing a definitive cooling in New York's housing market. The number of homes for sale in the city recently hit a record, according to StreetEasy data, amid fewer sales transactions. Meanwhile, September's report from real estate firm MNS showed Manhattan apartment rental prices — the most expensive in the city — on the decline.
"While few sellers struck deals at those radically reduced offer prices, they signal a major shift in our marketplace, one which has been building for at least 18 months," Peters said.
In today's market, sellers should not expect multiple offers, he added. "The majority of deals result from a single offer," Peters said — nor should they expect things to move quickly. "The days on market average has soared during 2018."
According to Warburg data, homes listed at $1 million or more are spending over 100 days on the market. Those listed between $8 million and $12 million are spending an average of 175 days on the market.

There's also a greater difference between asking prices and selling prices today, compared to in 2015, the height of the market: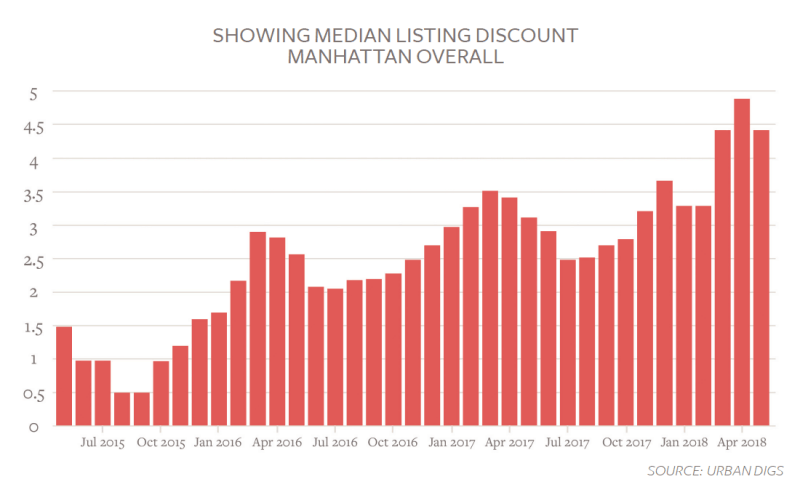 Peters added that "throughout the market we caution sellers not to expect multiple offers any more. In today's market, the majority of deals result from a single offer. And we caution not to expect that it will be quick."
Looking ahead, he anticipates "a stabilizing market. … Deal flow will increase as more sellers accept the current price realities and new, more moderate price benchmarks will be set. And the show will go on."
Source: CNBC